Centurica Quarterly Update
One of the things I'm excited about being the new owner of Centurica is the opportunity to 'build in public'. I want to share all the learnings, challenges and growth happening behind the scenes at the industry leading online Due Diligence service provider.
My aim is to share transparently so you can follow along and get a sense of where things are at and where we intend them to go. Hopefully, this will give you some interesting insight and takeaways you can apply for your own businesses.
So….wow, the first two months running Centurica are officially in the books. Man, it's been a wild ride so far!
From having to replace our lead project manager after just a few weeks, to sales drying up unexpectedly, to then building the foundations for our Dream Team (or so I thought…) and managing a record number of projects. It's been crazier than expected, and while it has been more stressful than anticipated, I'm proud of the progress that we have made.
There's still a LONG way to go. But this is still very early in a long-term play. I'm staying focused on improving and making progress every day. As long as we stay committed to that I know we are on the right track.
This Quarterly Update will be broken down into three main sections: Operations, Marketing, and Sales. In each section, I'll explain what's going on, share areas of progress, and spell out the challenges that we've been facing. Each section will conclude with our goals and plans for the upcoming quarter.
Ready to jump in? Let's do it.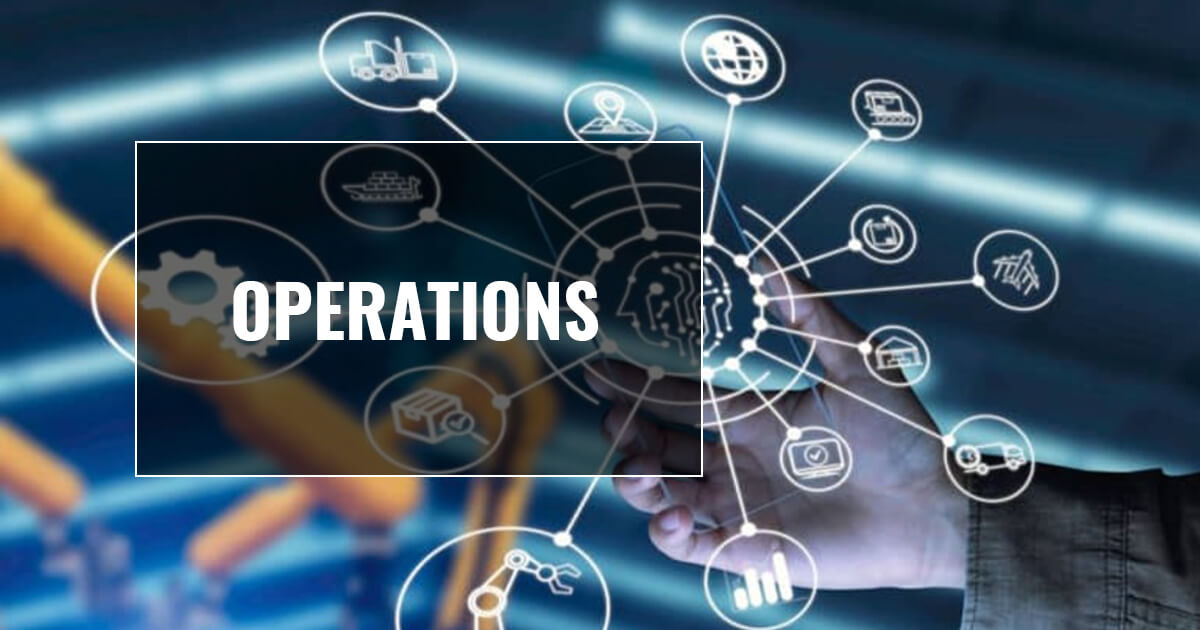 Operations: Efforts To Replace A Legendary PM
Operations is an area I thought I was confident in, due to my experience building and selling an FBA business and growing my other agency SellerPlex to 70+ people all around the world. And while I do have a strong track record around hiring and building high performing teams, taking over Centurica has certainly put my business building skills to the test.
Coming into Centurica, I saw a lot of opportunity for growth because historically, the business wasn't able to scale the operations beyond Brian (now the former co-owner). This meant they often ran into capacity issues which meant they were constantly turning down business.
I saw this to be a great opportunity for me as the new owner. If I could build a strong operational machine like I've done in my other businesses, then I could grow the business simply by NOT turning away business. But in order to do this, first we had to fill a hole. A large and important one. As I alluded to, this has NOT been as easy as I thought it would be.
Before taking over the business, I knew that one of the biggest challenges was going to be replacing the legendary Brian Diener. Brian has been the key project manager/account manager for Centurica for the last 5 years.
If you've ever worked with Brian, you'll know why replacing him was such a huge undertaking. The number one thing for a successful services business is keeping the clients happy. And Brian excels at this. He's a domain expert, he's incredibly responsive and great with communication, and he's just overall pleasant to work with.
As a co-owner, I knew he would not be staying in his day-to-day role with the business post acquisition (though he is staying on as an advisor). But his individual role has been a key part in the positive reputation of Centurica. So how could we carry that out in his absence?
Since Day 1, a huge project and focus has been figuring out how to replace Brian. Like I mentioned, hiring and recruiting is a strength of mine, so I thought I'd be up for the challenge. However, the first guy I hired ended up being, to put it mildly, not the right fit (insert face palm).
This meant that a month into my tenure as owner, the business felt like a total mess. The guy I hired was NOT doing what I thought he was hired to do. We were not on top of our projects, client's weren't being communicated to, and I had to jump in to keep matters under control.
While this is a role that I can play if needed, it is NOT what I would consider my 'super power' or strength as an entrepreneur. And this is absolutely NOT the role that I wanted to play with Centurica. However, I have a lot riding on this business, so I did what I had to do.
This was both stressful and humbling. All my ideas and visions for this business were worthless if we couldn't figure out how to keep our deliverables up to the standards clients expect from Centurica.
I knew that if I didn't get the right help in place fast, the strong reputation of Centurica would be put into jeopardy. This was unsettling for me, to say the least. So, after learning from my mistake with the first hiring attempt, I went back with my recruiting team to find a better solution. This time, we had a much clearer picture of what this role needed.
This was a stressful place to be in. On one hand, I knew we needed someone new ASAP. But at the same time, I didn't want to rush the decision and bring in someone who wasn't a good long term fit.
Fortunately, my team soon provided me with some candidates that I found promising. One of them, Greg, was a clear top choice.
Greg brought 25 years of finance and due diligence experience including 90+ global M/A deals. From our calls together, he seemed to just 'get it'.
I hired him and he jumped in right around the start of month 2. Brian, also being the amazing guy that he is, agreed to stay more involved for a few extra weeks to make sure the transition was smooth.
Greg's presence made a positive impact immediately. Working alongside Brian, the two of them got on top of the current projects, got the rest of the team up to speed, all while continuing to deliver on the new leads coming in.
Things were finally on the right track! Or so I thought..
A few weeks later we were unexpectedly served another curve ball. This forced us to overcome some unforeseen challenges, again. We will be stronger and better in the end because of it. And hey, no one said it was supposed to be easy, anyway. More on that in the next quarterly update.
Currently, our operations is not a completed project, but it has made leaps and bounds from the start. Building the operations and replacing Brian has been one of the biggest challenges and opportunities of my career. It certainly has been testing me as an entrepreneur and forcing me to grow.
Thus, I am growing and the business is improving. I am proud of the progress we've made and confident in the direction we are going in. The first few months have certainly been more challenging than I imagined. Though, I'm still encouraged by how much we've improved already and I know we'll continue to become better and stronger in the coming months.
I look forward to later sharing more details around the different phases and attempts to replace Brian. It's been a huge learning experience for me and I think you'll be able to learn from it, too.
Operations: Looking Ahead
The biggest operational objective for us this upcoming quarter remains to fully build our scalable deliverables. With the right people in the right seats and with good organization to enable us to deliver the highest quality work for our clients as well as meet the growing demand.
To do this, we'll have to make sure things in the sales department are going well. Which leads us to our next section: the sales update.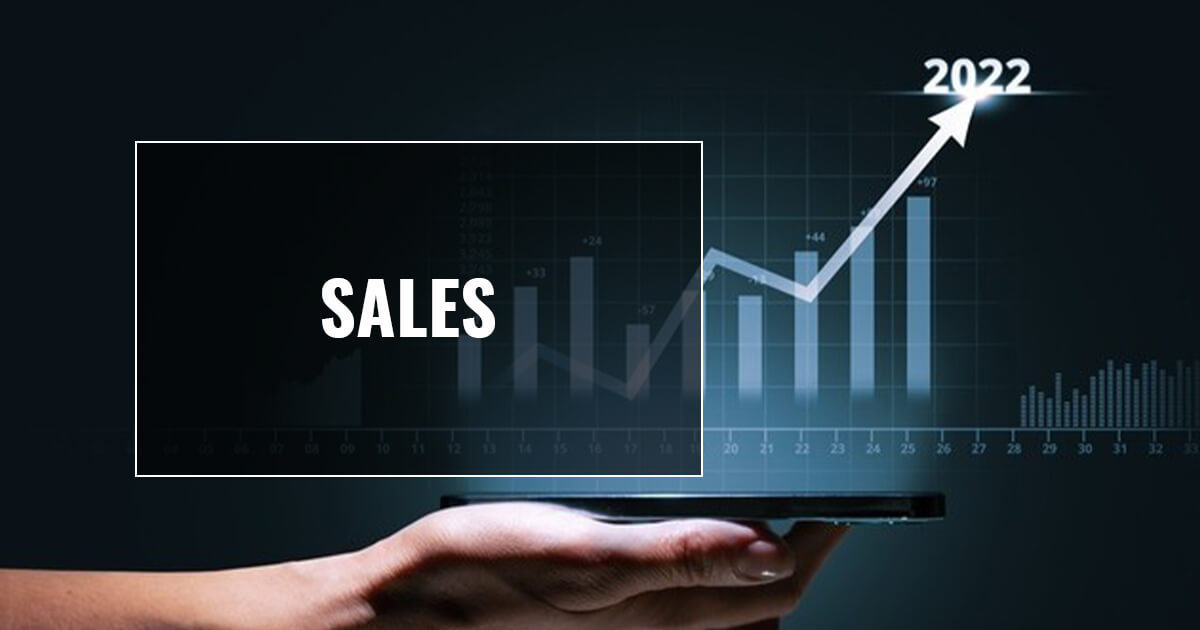 Sales: Solidifying The Pipeline and Integrating The Team
As I mentioned earlier, Centurica gets a solid amount of inbound leads. Previously, they had too many leads coming in that they often had to turn down potential business. Again, this was one of the things that excited me most about taking over the business.
I thought that if I could build scalable operations, then with a stronger sales department we should be able to capitalize to successfully grow the business.
Well, the start for the sales side of things didn't go as planned either. The biggest reason was that literally days after I closed on the purchase of Centurica, news broke that Thrasio was struggling and they replaced their CEO. This kicked off a chain reaction with many other top FBA aggregators breaking negative news that included missing targets and the layoff of many of their employees.
This is significant for Centurica because in the trailing 12 months, almost 80% of revenue had come from FBA aggregator clients. This was a strategic move from the previous owners to double down on this customer segment because they were repeat buyers with a same/defined scope, and they paid well. So, Centurica basically focused on serving this demographic and ignored many of the other leads that they couldn't handle anyway due to being at capacity with the aggregators.
In May (my first full month as owner), deals from aggregators were way down. It felt like a perfect storm of challenges stacking up. This was, of course, concerning. Fortunately, as the weeks progressed and I installed my own sales team, our project pipeline began to build.
My main sales guy, Ivan (who I brought over from my other business SellerPlex and has worked with me for years), immediately got to work on the foundations for our Sales Dept. This included getting our CRM set up, ironing out our engagement letter templates, defining various scopes of work, and most importantly, diligently following up with our leads.
The sales cycle for due diligence projects can be as short as a day, but it also can drag on. Often people inquire when they are *close* to an LOI. But, any experienced investor will know that *close* on an LOI could mean it is confined shortly, or something comes up that throws it all off and puts the whole deal in jeopardy.
As Ivan continued to engage and follow up with our pipeline, the more sales were lining up and closing. That, as well as many aggregator clients coming back to acquisitions after a few month hiatus, currently has our pipeline full.
Sales: Looking Ahead
Until now, we've been focused mostly on low-hanging fruit in this area. Some of our sales objectives for this quarter are to add some high-touch follow up campaigns with our past clients, get better clarity around various scopes for various types of projects, and explore some sort of pre-LOI deal flow/advisory offer.
So in short, the leads and sales pipeline have been good. And with our increased marketing efforts, I hope they continue to grow. Speaking of marketing, let's talk more about Centurica's pending marketing plans.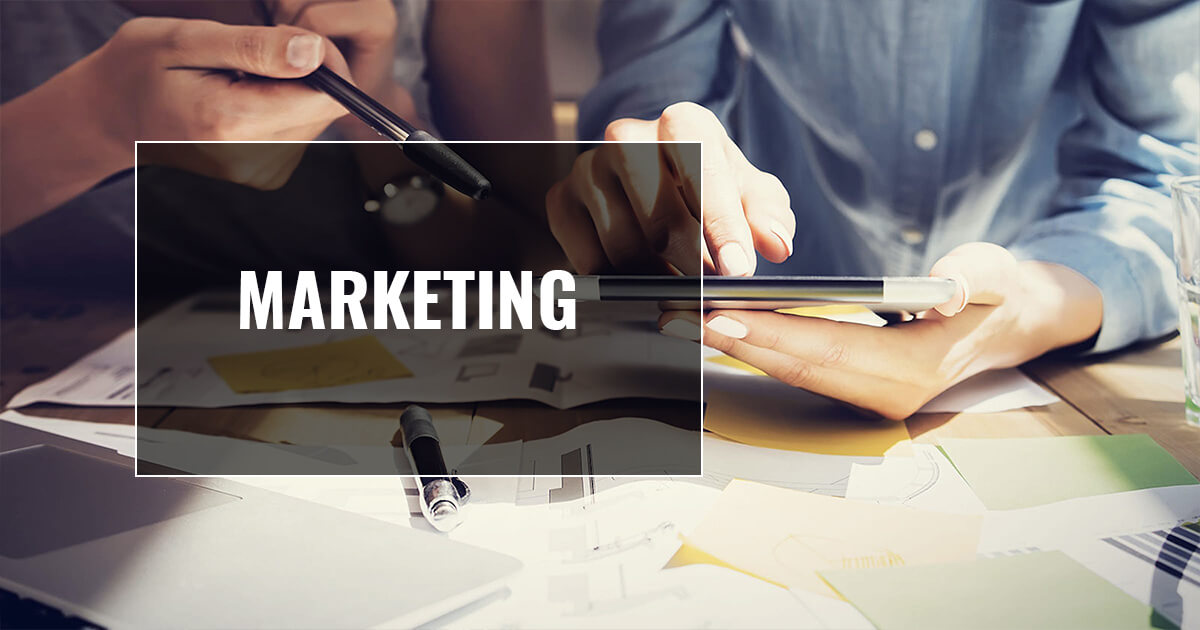 Marketing: Email List, Blog, and MarketWatch Report
When I initially decided to buy this business, another huge opportunity I saw was to build more brand awareness and authority through marketing. While current leads and brand awareness is already strong, I knew there was a lot we could do to gain more authority and reach in the M/A industry.
This past quarter, we focused mainly on email marketing and content marketing. And as you probably guessed, this blog is one of the things we have to show for it.
Centrucia has done very little marketing historically. Keep in mind that the business had always been at capacity, so it didn't make sense for the previous owners to invest in marketing. With my confidence around being able to successfully expand capacity, marketing is now a big opportunity and priority and excites me very much (that is, when I'm not putting out operational fires).
One of the biggest projects this quarter was cleaning up and preparing the email list. When I bought the business, Centurica had a legacy email list of around 9k. But, it was broken up into disparate databases and had not been engaged for years. So, one of the first projects on the marketing side was to consolidate, clean up, and warm up the list.
This has been an ongoing process because we have been warming up the list slowly (so as to protect our domain). I hired an email deliverability consultant to help with this project. He ran our list through some cleaning tools and started sending in chunks. First we could only send 100/day, then eventually we got up to 300/day when we were seeing good metrics.
The results so far have been positive. We are getting good responses and already engaging in some good new conversations. We expect to finish warming up the entire list in the next two weeks and then can implement more consistent email marketing. Then, we plan to add value to and engage with our email list through quality content: blogs, a newsletter, etc..
Another leading marketing project we are preparing is an updated Market Watch Report. This report provides analysis from our proprietary data found in the Centurica Marketwatch. We know this report has unique data and insights that investors are interested in. The last report Centurica put out was in 2019, so it's a bit outdated.
Of course, moving this forward was another significant project. I've had to fill each role needed from scratch. Fortunately I was connected to an incredible data scientist who agreed to head up the market watch report. And after much seeking, I also found a great writer with industry expertise to comment on the data.
We originally were going to share the report with data up to the beginning of the year. But, we figured people would be interested in seeing all of the changes the first half of this year has presented with the recession.
So, we waited to refresh the data until the end of Q2, and are now finalizing the data sets to be used to start sharing with you soon. If you're on our email list, you should have already received a few graphs.
I'm really excited about sharing this data with you! We're working on some really cool stuff that can't be found anywhere else. This is one of the pieces of content I'm excited to share first with our email list. And, as you've probably noticed if you're reading this, we also have been working on launching the Centurica blog as well.
Another small but significant marketing win from the first few months was setting up retargeting ads. This is a key piece in any online business marketing strategy. The window for hiring a due diligence service provider can be very small, so we really want to consistently stay in people's awareness so that when the time is right, they think of us.
So, if you are on our email list or clicked our site, you should be seeing our ads follow you around. Hopefully, you don't mind!
Marketing: Looking Ahead
Moving forward, the big goals for this quarter on the marketing end are to finish warming up the email list. Once that's ready, we're going to send emails regularly and probably start a newsletter.
On the content marketing side, we plan to complete the updated market watch report. Once it's done, we will share it. One way I'd like to get this valuable resource in front of people is through podcasts. So, I intend to go on a podcast tour. If you know any podcasts that you think would be interested in this information, please let me know as I'd love to connect.
The last big marketing project for next quarter is a complete website redesign. This is very exciting for me and should really impact the company positively for the years to come.
In summary, we're building the foundation for email marketing, prepping for content marketing, and ready to improve our online appearance.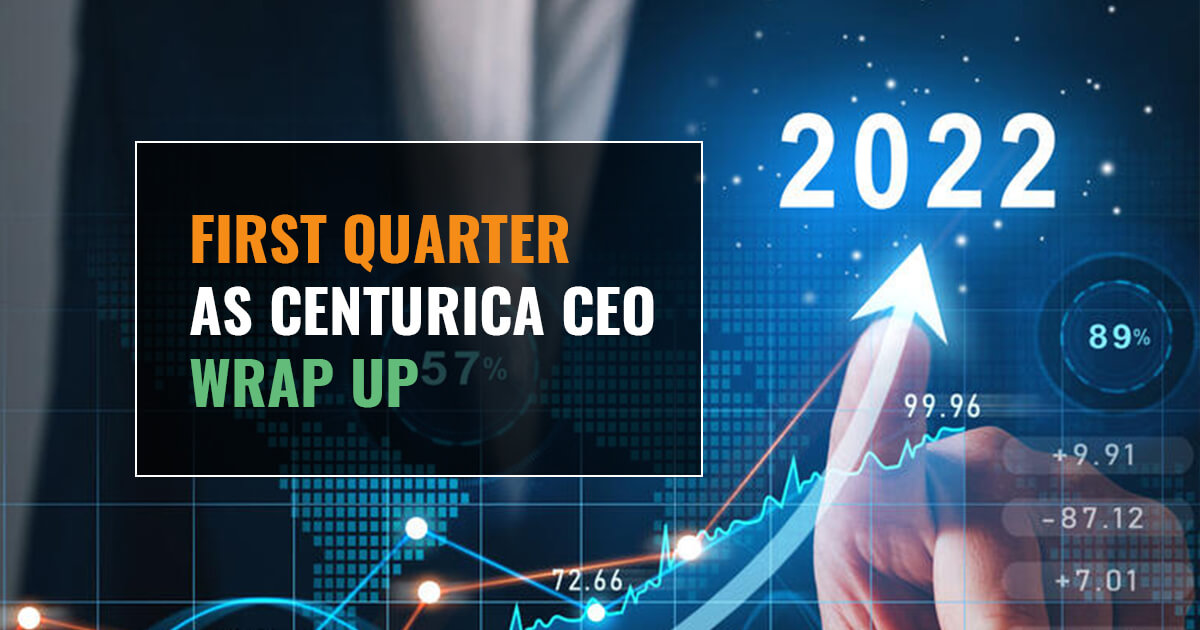 First Quarter As Centurica CEO Wrap Up
Well, the first few months were a lot more hectic than I expected. We had big challenges, but I'm proud of how we have adapted and improved in order to get us to where we are now. Now, Centurica is in a very exciting place to be building from.
I'm excited about my new role in this new business and look forward to sharing more with you. Stay tuned for the next quarterly update, which will be published sometime in the month of October. Hopefully, by then I'll be less involved in the day-to-day operations and can have more time to publish this update in a timely manner.
If you're interested in learning more about Centurica or our services please hit reply to this email to set up a time to chat. We'd love to connect to explore if we can help support you in your online business acquisition needs.